Troubleshooting Visual Studio Integration¶
Conflicts with Deveroom¶
If you are using Deveroom, do not install the SpecFlow Visual Studio extension; you should only install one of these 2 extensions.
Enable Extension¶
If Visual Studio displays the error message Cannot find custom tool 'SpecFlowSingleFileGenerator' on this system. when right-clicking on a feature file and selecting Run Custom Tool, make sure the SpecFlow extension is enabled.
To enable the extension in Visual Studio, select Tools | Extensions and Updates…, select the "SpecFlow for Visual Studio" extension, then select Enable.
If the error still occurs, select Tools | Options | SpecFlow and set Enable SpecFlowSingleFileGenerator Custom Tool to 'True'.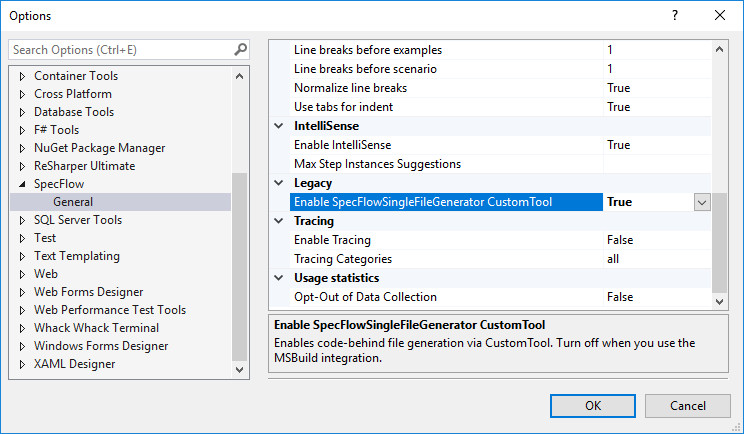 Enable Tracing¶
You can enable traces for SpecFlow. Once tracing is enabled, a new SpecFlow pane is added to the output window showing diagnostic messages.
To enable tracing, select Tools | Options | SpecFlow from the menu in Visual Studio and set Enable Tracing to 'True'.